Turnaround of a Consumer-Goods Business in the US
---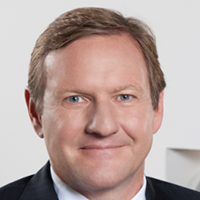 Michael Traub
Former CEO
"Simon's change process has created a real strong commitment in our executive team to win together and create alignment in our organization."

Problem:

"BSH hired Simon Vetter during the worst economic crisis that our industry faced in a long time…"

A new leadership team was put in place with different levels of experience in managing complex situations.

There was no cohesiveness in the team and therefore decision-making was not consistent. The downsizing and rightsizing of the company required speed and alignment, which did not exist in the leadership team.

Assess:

Evaluation of new leadership team

Different levels of experience in management

Cohesiveness (none) or alignment

Inconsistent decision-making

Plan:

Empower CEO to spearhead change initiative

Individual coaching and leadership development

Create real and strong commitment to align and win together as a team

Follow-Up & Change:

Continuously participate in the process

Re-assessments and check-ins

Measure:

Jointly defined a clear strategy for the organization

Improved team attitude

Positive impact on associates measured by leadership team

Executive team became a high-functioning team

Credibility increased at HQ

Revenue growth and market share gain

Results:

The combination of individual coaching and the leadership development in various off-site sessions has created a real strong commitment to win together and create alignment in our organization.

We have experienced tangible benefits as a result of the leadership development program:

We jointly defined a clear strategy for our organization.

Our attitude in the team improved significantly towards "united we stand divided we fall".

All associates feel the positive impact on the leadership team.

The executive team became a high-functioning team

The credibility of the US organization increased in HQ in Munich.

The turnaround was building momentum to grow revenue and gain market share.